User Technical Issues
The following are common issues teachers may encounter:
If you still experience issues after performing the steps and checks below, please email us at TechSupport@QuaverEd.com or call (866) 917-3633 on weekdays from 7 a.m. – 6 p.m. for immediate phone assistance.
Issues with Videos Buffering/Freezing
After launching a video, select the options button in the lower-right corner of the video and manually adjust the resolution for the video until you no longer have buffering/freezing issues. If your device utilizes WiFi to connect to the network, see if it is possible to use an ethernet cable to connect to the network instead.
If you are still encountering issues after attempting the two processes above, you may need to reach out to your IT department so they can look at your setup and make the appropriate adjustments to resolve the issue. Many teacher-reported slowdown issues have been resolved by taking the following troubleshooting steps:
Check Your Internet Speed
A minimum connection of 10 Mbps (download speed) is required for Quaver to run on any device as we intend. Check your connection by visiting www.SpeedOf.Me where a short speed test will automatically begin. You may wish to repeat this test 2-3 times at different points during the school day to gauge your connectivity over time.
Close Unused Browser Tabs / Programs
Performance of Quaver is increasingly affected with more browser tabs open and unused software programs. Close any unused tabs and programs, and try again!
Try a Different Browser
Does the issue occur when you login to Quaver in a different browser (Chrome, Firefox, Safari, Edge)? If not, your default browser may require an update (feature may be restricted by your district/school IT department). If the issue persists, continue on to the steps below.
Plug it in!
If on a laptop or tablet device: When your battery reaches lower levels of charge, you may begin to experience performance issues. Make sure the device is charged above 50% to prevent any system throttling, which could lead to slow performance.
Restart Your Browser / Device
Like many things in life, a fresh start can set things back on track. If you experience slowness on the Quaver site, quit and restart your browser, or even restart your device.
It's also possible that the QuaverEd servers are overloaded. Check our Site Status to see if there is something QuaverEd is working on. Otherwise, call your district IT department to help solve the problem.
Issues with Quaver screens loading (Clear cache)
At times you may encounter loading issues with certain activities/slides when using Quaver products. When encountering these types of issues clearing your browser cache could potentially resolve these issues. Please select the browser you utilize below to see instructions on how to complete this process. (NOTE: If these options are unavailable in your browser, your IT department may have restricted these settings and would need to clear the cache for you.)
Troubleshooting Alternatives
If clearing the cache/browsing history did not resolve the issue, you may wish to consider using a private browsing window in your preferred browser as a temporary solution:
Private Browsing (Firefox)
Browse in private with Incognito mode (Chrome desktop and Android)
Browse InPrivate in Microsoft Edge
Use Private Browsing in Safari on Mac
Turn Private Browsing on or off on your iPhone, iPad, or iPod touch
If an IT professional needs additional information, please contact us, and we will be happy to offer additional answers or support!
Issues with Teacher Access Codes
Every QuaverEd license is activated by a Teacher Access Code. This is a 6-character code that has both letters and numbers.
A typical Teacher Access Code looks like this: 92C8ZM.
You enter the code the first time you register your account or log in.
If you do not have a Teacher Access Code, call your district administrator to receive one. If you can't get one from the district administrator, call our hotline: (866) 917-3633.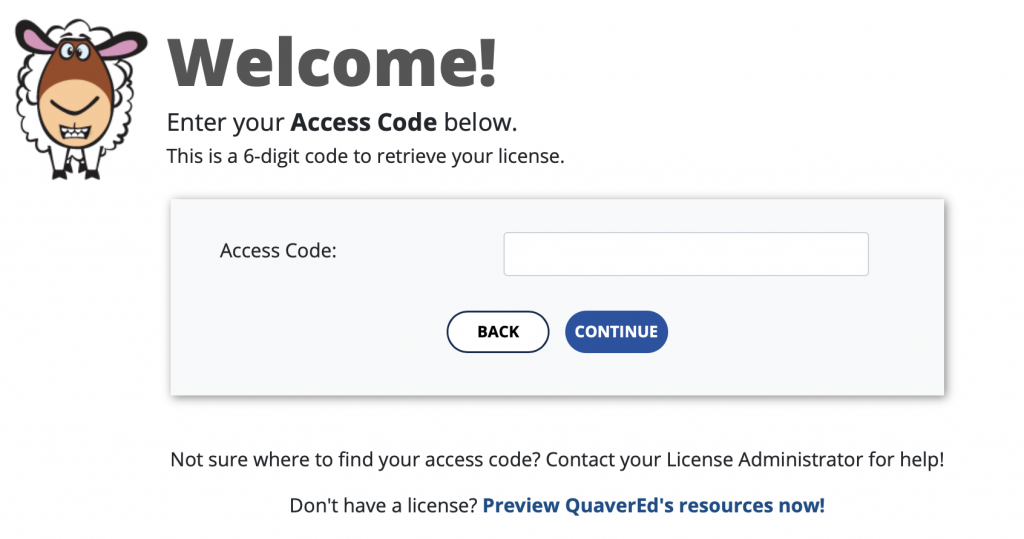 If you still experience issues after performing the steps and checks above, please email us at TechSupport@QuaverEd.com or call (866) 917-3633 on weekdays from 7 a.m. – 6 p.m. for immediate phone assistance.