Resource Sharing in Google Classroom
Resource Sharing in Google Classroom
As you begin to prepare for this new school year, your district may encourage you to use Google Classroom to create, distribute, and grade assignments through hybrid or remote learning.
QuaverEd offers cloud-based teaching resources that support teachers with easily-built assignments, video recording capabilities, direct student to teacher communication, and automatic logging of student activity.
Quaver teachers can easily use Google Classroom to share a variety of resources with their students. Options include:
PDF attachments of worksheets and project books
Videos of teacher-led instruction of Quaver lessons
Access instructions for students and parents to access assignments in Quaver student accounts
This article will explore the basics of Google Classroom with a step-by-step walkthrough of the resource link process.
Note: The examples used below are from QuaverMusic, but the same functionality is available in QuaverSEL curriculum resources as well.
How to use Google Classroom to distribute Quaver resources
Google Classroom allows teachers to distribute content in the form of Assignments. This happens in the Classwork portion of Google Classroom.
To create an assignment from your dashboard, click Classwork at the top of the screen.
Begin editing your assignment by selecting the blue Create button on the top left.
From here, you will be taken to your assignment editing screen where you can add an assignment title, directions, due dates and more for your students.
4. To add resources to your assignment, click Add under the instructions box.
At this point, you can choose what kind of resource you add to your classroom.
Drive: Select Drive to select anything you've uploaded to your Google Drive
Link: Select Link and follow the instructions below to link to any individual Quaver resource!
File: Select File to upload a PDF or other document directly – a great solution for Quaver worksheets you'd like to share or a QR Code you want students to scan
YouTube: Select YouTube to embed a YouTube video in your Classroom. Remember to keep your videos unlisted if you don't want them to be searchable beyond your students.
How to generate links from Quaver to share in Google Classroom
Quaver teachers can now easily generate a unique link to any single resource from Resource Manager or a Quaver lesson. The unique links can be added to Google Classroom for easy at-home access!
Note: Resource links can only be generated for individual resources (not lessons or assignments) and will not require an active student account. For this reason, they cannot be relied on for collecting any assessment or performance data. We recommend the use of Quaver Assignments and individual student accounts for this need!
To generate a link to an individual Quaver resource from Resource Manager
1. Visit Resource Manager and select a resource from the search results or your personal folder system.
Note: If you are choosing to link a Creative, this will NOT pull up the Menu option that allows students to open, save, or download a song. This is because students are not in their accounts when using these generated links. If you wish to have the Menu option, assign the Creative to student accounts. Learn how here!
2. In the preview window that appears, select MENU and click GET LINK.
To generate a link to an individual Quaver resource from a Quaver Lesson:
1. Launch a Quaver Lesson from the Curriculum Menu or your Custom Lessons
2. Navigate to the resource you would like to share, and click MENU, then LINK.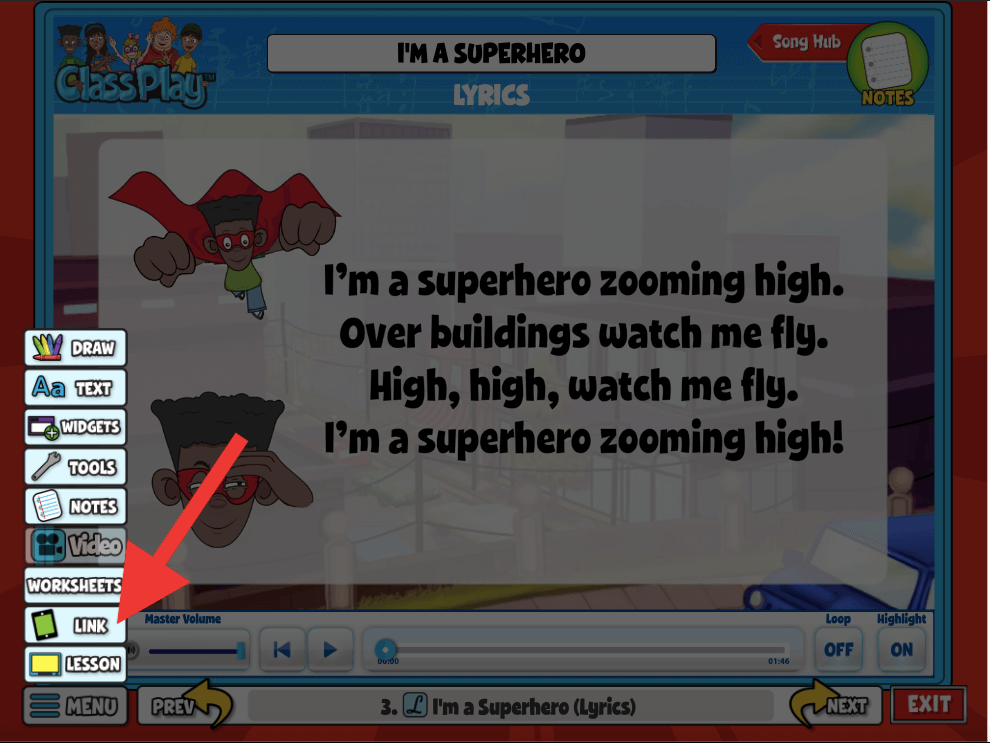 This will pull up a Share with Students screen. Select the text to copy, or click COPY RESOURCE LINK to automatically copy the link.
You can then paste that link into your Google Classroom — good for 45 days!
How to share the Assignment in Google Classroom Assignment
Once you have completed your assignment, click the blue Assign button in the upper right corner to distribute it to your students!
Other Support for Google Integrations
QuaverEd also supports the following functions with Google:
Sign in with Google – Teachers and students can use their Google account to create and sign into a Quaver account.
Google Classroom Rostering – Teachers can set up roster data integration with Google Classroom so that all of their classes and rosters from Google Classroom get automatically pulled into Quaver and updated regularly.